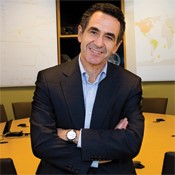 Filippo is one of the world's leading shared service strategists, widely recognized for his game-changing approach to business management. His work has been the focus of numerous books and articles including the Harvard Business Review and has won him dozens of awards.
Filippo's 30+ years' experience includes starting and leading one of the world's first and undeniably the largest, most ambitious, challenging and high-risk shared service organizations in the world at the Procter and Gamble Company.
He and his team combined nearly 90 service lines from 80 areas of the world into a single organization – Global Business Services. Filippo stood it up in weeks, showed financial benefit in months and then continued to drive quality improvement while evolving the organization every year.
His leadership earned him a critical seat at the company's executive team, where he drove billions in cost savings and delivered business transforming strategies and innovation. Under his leadership, P&G's Global Business Services organization was repeatedly named best-in-class in the world.
Filippo co-founded Inixia when he saw companies struggling with challenges that he and his teams solved years ago at P&G. With fellow co-founder Tony Saldanha and other global thought leaders, Filippo has packaged, perfected and created shared service best practices with the aim of helping any organization deliver exponential growth, innovation and quality.
A charismatic leader recognized for his authentic warmth, Filippo is widely sought out for speaking engagements, advisory roles and board leadership.
Over the years, he has served as an advisor, board member and operating executive at several companies, including The Carlyle Group, Mars Company, United Rentals, McKinsey & Company, Integer Holdings Corp., and the Estée Lauder Company.
He also has served as adjunct professor at the University of Toronto's Rotman School of Management, is a visiting Professor for the Politecnico di Milano School of Management, and a Professor in Residence at Columbia University.
He has received numerous awards, including the inaugural Fisher-Hopper Prize for Lifetime Achievement in CIO Leadership, Shared Service Thought Leader of the Year, InformationWeek's Chief of the Year and is a member of the CIO Hall of Fame.
Filippo has lived and worked in the UK, Latin America, Greece, Italy, Turkey and the United States. He is a native of Italy, where he earned his Doctorate in Statistics & Operating Research from the University of Rome.