For You, Your Teams,
Your Organization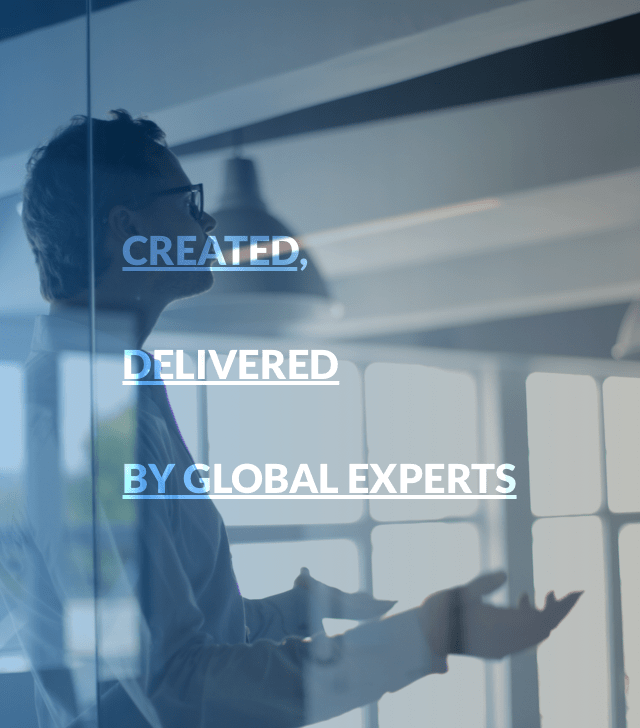 Expertise, Examples,
Engagement
You have objectives for your work/career, your teams, your organization. Inixia can help you get there – and beyond.
We offer a series of certification trainings that build knowledge, leadership, exposure, industry connections and showcase proven expertise.
We also create customized trainings to meet the unique and evolving needs of your teams and organization.
Each of our trainings is developed by and with some of the world's leading strategists and thought leaders in shared services – operations, management, systems, and leadership – and in business transformation. Their decades of experiences, successes, and mistakes are packed into every training, giving you take-away best practices, proven models, and key strategies to accelerate your work.
Every training also is delivered by experts. They have worked in the field, been in the trenches, and directed strategies in the boardroom. Courses are aimed at high-interaction, personal engagement, connection building with trainers and class participants, and networking.
Inixia offers the only expert-created and delivered certification training for Professional Global Business Services, aimed at elevating the professionalism and acceleration of the fast-growing shared service industry.  Learn More
Inixia also offers certification in Leading Business Transformation, building skills critical for any professional today seeking to advance their careers and impact and the success of their teams.  Learn More
We have trained leadership teams, service lines, functional groups, and entire organizations at some of the leading companies in the world:
Each course is customized, including packaging, streamlining, or expanding existing courses. Each is led by an Inixia expert bringing extensive experience as a practitioner and leader. Each is focused on helping your team understand critical strategies and applications to solve immediate and real problems.
A few of our previously delivered courses include:

    Leadership Teams
Vital to the success of any GBS organization is the strength, alignment, and shared focus of its leadership teams. This can be as difficult to manage as it is critical. This course helps strengthen and focus your teams on common principles, shared vision, and mutual support.


  Running as a Business
This course gives your team a deep dive into the concept of running your GBS not as a function, but as a business. This powerful strategic shift is critical to transforming from a cost center to a strategic resource in your company.
It will give your team a solid understanding of the Brand-Building Framework and how that can sharpen your strategies, services, and work with internal business partners.


  Operations Management
Ensure your service center teams know the best-in-class methods of operationalizing your shared service, including approach, methodology, and tools needed for running day-to-day operations, managing operational issues, and driving continuous improvement methodologies.


  Service Management
Learn the transformational strategy of running your organization as a business and not just a service, along with gaining a deep understanding of framework, standards, and processes for defining a clear, business-run service line. Includes pricing and benchmarking, creating strategies and innovation plans, and commercializing the service.


  Shaping Your Value Proposition
Learn how to ensure company leadership understands the current and future value of your organization, and that your teams support each step of the journey.
This course drives strategy development, organization management, and stakeholder management – all critical in an increasingly dynamic industry. It also helps shape understanding of and vision for future-state shared services.


  Business Transformation / Change Management
The reason so many transformation projects – big, small, or enterprise-wide – fail is because so few leaders are trained in how to envision, engage stakeholders, maximize impact, and leverage key technology. This course aims to build those skills before or during your next transformation project.


  Transformation Management
Build expertise in driving ongoing improvement in service quality, cost, and customer satisfaction by bringing together the known tools of project management, business transformation, and organizational excellence.