Leading Business Transformation Certification
Develop the Skills to Envision and Drive Change

Lack of Training is the Prime Reason 70% of Business Transformations Fail
Organizations are increasingly looking to increase productivity, innovation, savings, quality, employee retention, value.
This opens the door for any employee to make an important impact by proposing and driving strategic changes. Transformation is no longer a senior-manager's job.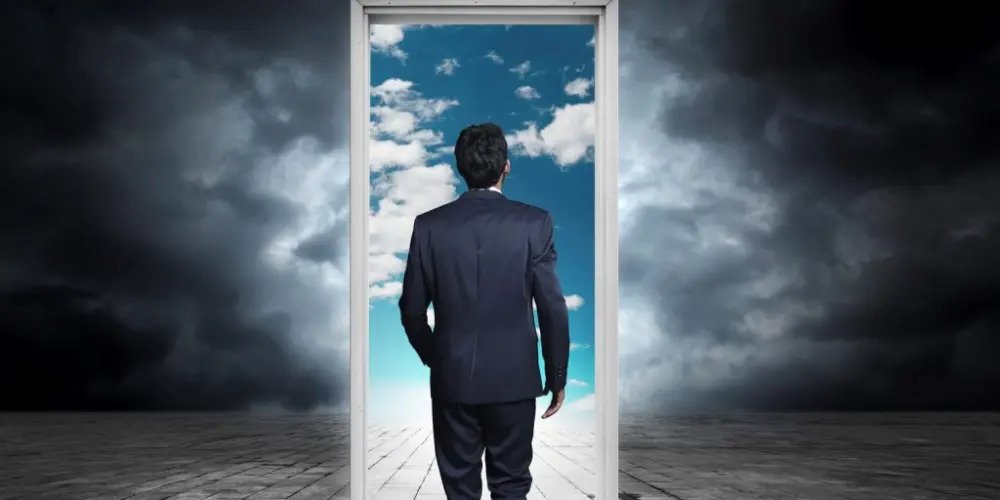 Change Does Not Need to be Big to be Impactful
Few companies today are willing or able to embrace long transformation programs. Good news is that we have repeatedly seen how incremental or smaller business transformations can generate great, lasting value, quickly.
Game-changing transformation does not need to be broad and big. It does, however, need to be strategic and well executed.
Business Process Transformation:

Focus: How the work is done
Aim: Increase efficiency and effectiveness
Goal: Free capacity for higher-value work
Scope: Small to very broad

Digital Transformation:

Focus: Technology
Aim: offer new products and services, by more rapidly designing, building, or distributing them.
Goal: Generate additional value
Scope: Small to very broad, can enable Business Process Transformation

Organization Transformation:

Focus: How the organization operates
Aim: Increase competitive advantage
Goal: Drive long-term sustainability
Scope: Typically, very broad, including staffing, reporting lines, skills and experience, organizational design

Cultural Transformation:

Focus: How people work
Aim: Shape employee behavior
Goal: Improve business results by more effectively engaging employees
Leading Transformation is a Skill
The leadership skills critical to driving effective change do not come naturally. They are either gained through years of tried-and-failed practice, or through focused training.
But, most organizations do not know how to train their teams to be change agents – to see possibilities, sell the opportunity, effectively engage employees, and drive successful implementation.
Inixia's Leading Business Transformation Certification Course  provides you with the Toolset, Mindset, and Skillset to drive impactful change – in your teams, your project, or across your organization.
You will develop and sharpen skills to:
Create a transformation vision

Energise their organizations around that vision

Enable change while engaging teams and business partners with strong execution plans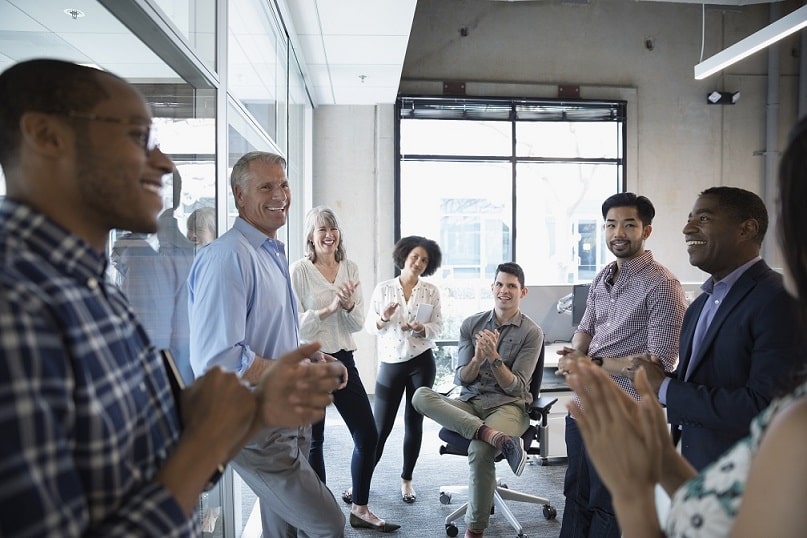 All Functions, All Levels Need to Understand Business Transformation
In today's market, companies are looking for people who can see opportunities and drive change.
You should consider this course if you are seeking:
Improved business results
Stronger teams
Increased role satisfaction
Greater career trajectory
Or, if you currently are thinking any of the following:
I think there are opportunities in my company, and would like to contribute, but don't think I have the skills or the knowledge.
There is a need to change several processes, but senior leaders are not acting.
I want to personally help, lead, and expand my "circle of influence."
Several things could be done to improve the way business runs; but it's not clear how to prioritize, develop a plan, or how to motivate people.
I don't have full control over business transformation, or the people involved; but I see opportunities and want to learn how to help and make an impact.
I have attended courses, seminars, and am reading a lot; but content is theoretical; I something concrete, applicable, and best-in-class.
A Proprietary Framework Drives Deep Skill Development
Inixia's team of experts developed a proprietary approach to help you develop the Mindset, Skillset, and Toolset to envision and drive transformational change in your organization, teams, projects. 
The course is broken into four modules, ensuring you learn how to Anticipate, Validate, Amplify, and Leverage your transformation idea to maximize impact and success.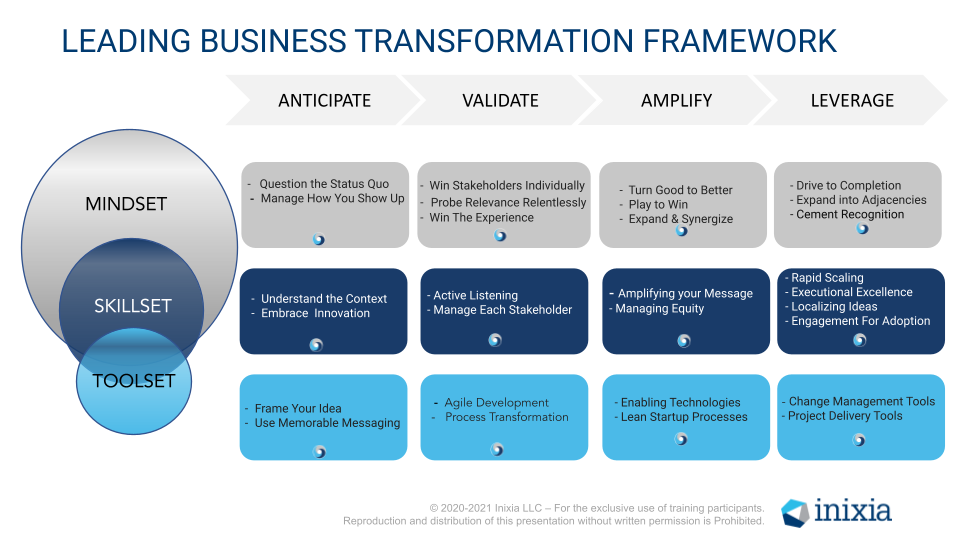 Classes are intentionally small to maximize interaction.
A detailed case study plays out throughout each module with class participants engaging in role play, active presentations, feed-back sessions, and mentoring.
Real-business examples, case studies, and antidotal stories give additional depth, richness and reapplication to all coursework.
"For some years I had been looking for a type of training that could help me grow in all areas of my work, in a structured and organic way." -- Alessandro Franzin // Publishing Hub // Head of Organization and Transformation
"This course has allowed me to open a door necessary to develop a new mindset, essential for understanding and managing the profound transformation that the markets and the Business are experiencing" -- Michele Favaretto://Boehringer Ingelheim // District Manager
"This course contains both soft- and hard-skills teachings that include but are not limited to: leadership, communication, change/process/project/lean management, digital insight and operational excellence. It enables you to learn, metabolize and practice almost immediately concepts that are normally disperse in several disciplines." -- Zuleika Falcioni, MIP