Professional GBS® Certification
Grow Your Shared Service Leadership, Skills

Advance Your Expertise, Your Organization's Maturity
Through Inixia's Professional GBS® Certification courses, you will learn key strategies, proven approaches, and standardized models that will take your work, your team, your organization to the next stage of GBS maturity, and thus deliver greater efficiency, cost reduction, agility, and innovation.
Many companies struggle — or take years — to advance beyond Stage 1 or 2. This is a tremendous loss of time and value as the real benefits of GBS come in Stages 3 and 4. Professional GBS® Certifications will help you see the path forward, and give you at the tools to get there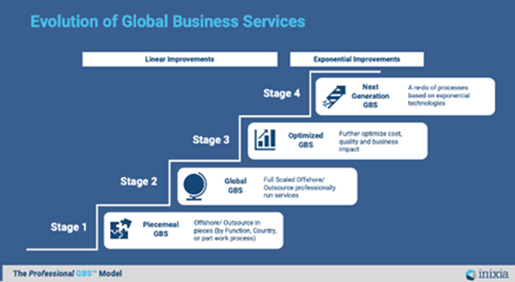 Tools that build a successful shared service
Skills that define your leadership, innovative thinking, and ream building
Credentials that distinguish you as an expert
"We are already applying what we learned to our own transformation journey."
"It is critical that we learn from each other to ensure we as an industry are moving in the right direction."
"This is a must."
"It is a fabulous course."
"This is material I will refer to again and again."
"Unmatched in terms of any industry training currently available."
This course is designed to advance the skills, expertise, and leadership of mid- to senior-level shared service professionals.
Nearly every industry in the world has adopted key levels of certifications: Finance (CPA), Project Management (PMI), Supply Chain APICS), Information Technology (ITIL), Business Process management (ABPMP), Engineering (ASCE).
This certification course brings that same level of discipline and knowledge to the shared services industry.
"Every other industry has standardized trainings to build professionalism and increase results. Now, thanks to Inixia's Professional GBS, we do, too." – Naomi Secor, Global Managing Director, SSON
How the Course is Organized
Inixia created a proprietary approach to building GBS expertise. Our model starts with Foundational knowledge and builds up to the pinnacle skill of Leadership.
Foundations
Service Management
Operations Management
Transformation Management
Leadership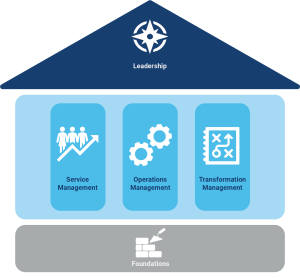 Five courses, each with its own professional certification
Complete all five courses to become a Certified Professional GBS<sup>®</sup> Master
Each course broken into 3 classes; total of about 48 hours
Small Classes
Extensive interaction
In-class problem solving
Interactive discussions with experienced practitioner
Networking with industry leaders
Direct coaching, tips, and training from industry founders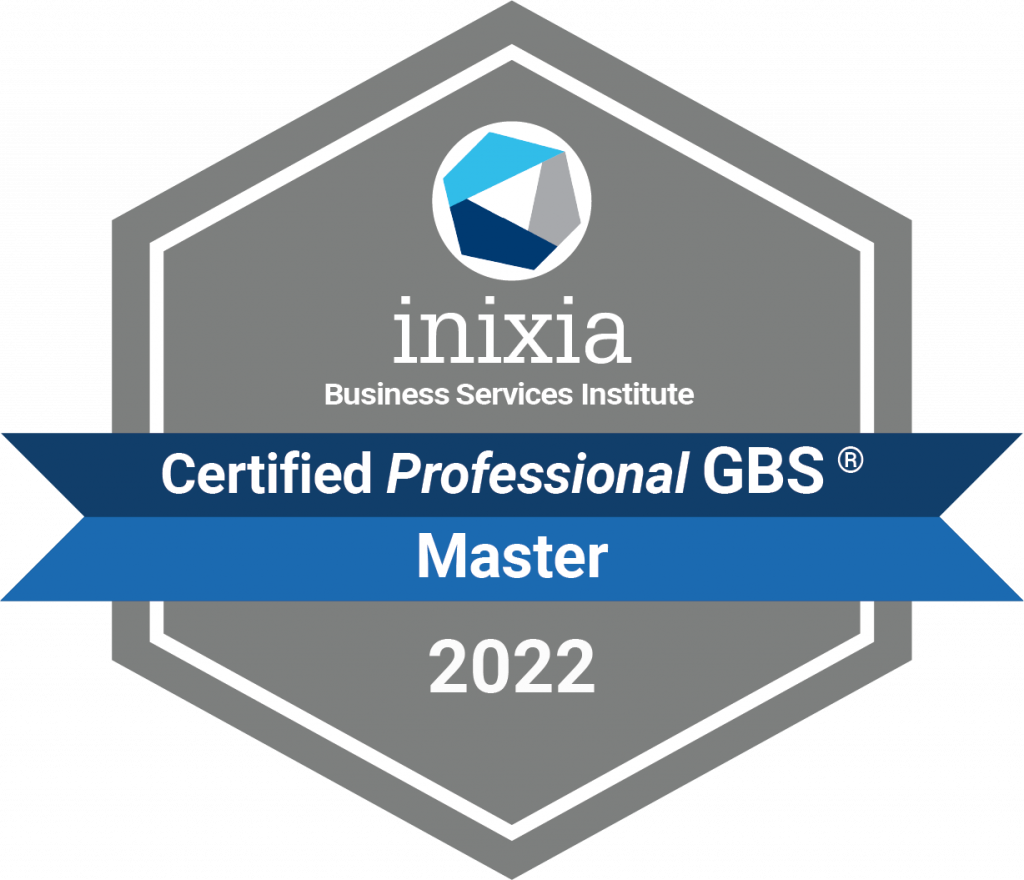 This module serves as the building block for all others in the Certification series.
In three distinct sessions, you will learn from hands-on experts how a winning GBS model works, how proven strategies can drive excellence, and how your shared service can transform your company.
The Foundation course also provides the standard model and the terminology required to consistently develop advanced GBS processes
GBS Overview: How the model works
Implementation: Making the model work for you
Process: How to make it all work together
Learn the transformational strategy Running As A Business — and not just a service. These proven processes and industry standards are the underpinnings for an effective, efficient, and high-quality organization.
Expect a deep focus on framework, standards, and processes for defining a clear, business-run Service Line including pricing and benchmarking, creating strategies and innovation plans, and commercializing the service.
Service Fundamentals: Understanding Running as a Business
Service Design: Setting up your business offerings
Service Strategy: Working with vs for your customers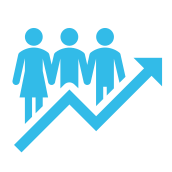 Operations experts showcase best-in-class methods for successfully operationalizing your shared service, outlining the approach, methodology and tools needed for running day-to-day operations, managing operational issues, and driving continuous improvement methodologies.
This is an essential training for anyone working in either the Head Office or in a Shared Service Centers.
Operations Planning: Measures, Documentation, and Effort Estimation
Operations Control: Daily Management, Incidents and Problem Management
Continuous Improvement: Quality, Speed, and Cost; Project Identification

4. Transformation Management
Continued evolution is the key to growing and building a successful shared service.
This course shares key methods to drive ongoing improvement in service quality, cost, and customer satisfaction. It brings together the known tools of project management with elements of business transformation and organizational change — which need to play in harmony for successful service transformations
Automation / Digital: Enabling and driving through a shared service
Opportunity Assessment: Identifying how to grow, expand, strengthen
Transformation Execution: Applying proven change management methods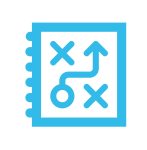 Learn how to ensure company leadership understands the current and future value of your organization, and that your teams support each step of the journey.
This course drives strategy development, organization management, stakeholder management – all critical in an increasingly dynamic industry. It also helps shape understanding of and vision for future-state shared services.
Operational Leadership and Strategy: Mapping your organization's future
Continuous Improvement Strategy: Ensuring everyone drives improvement
Future State Strategy: How to always be pushing forward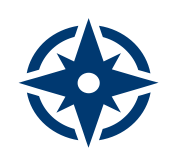 Earn Your Professional GBS® Master Certification
For those who successfully complete all five Professional GBS® courses, we offer an exclusive level of recognition: Professional GBS® Master.
Masters will be invited to join our Professional Inixia Community, offering: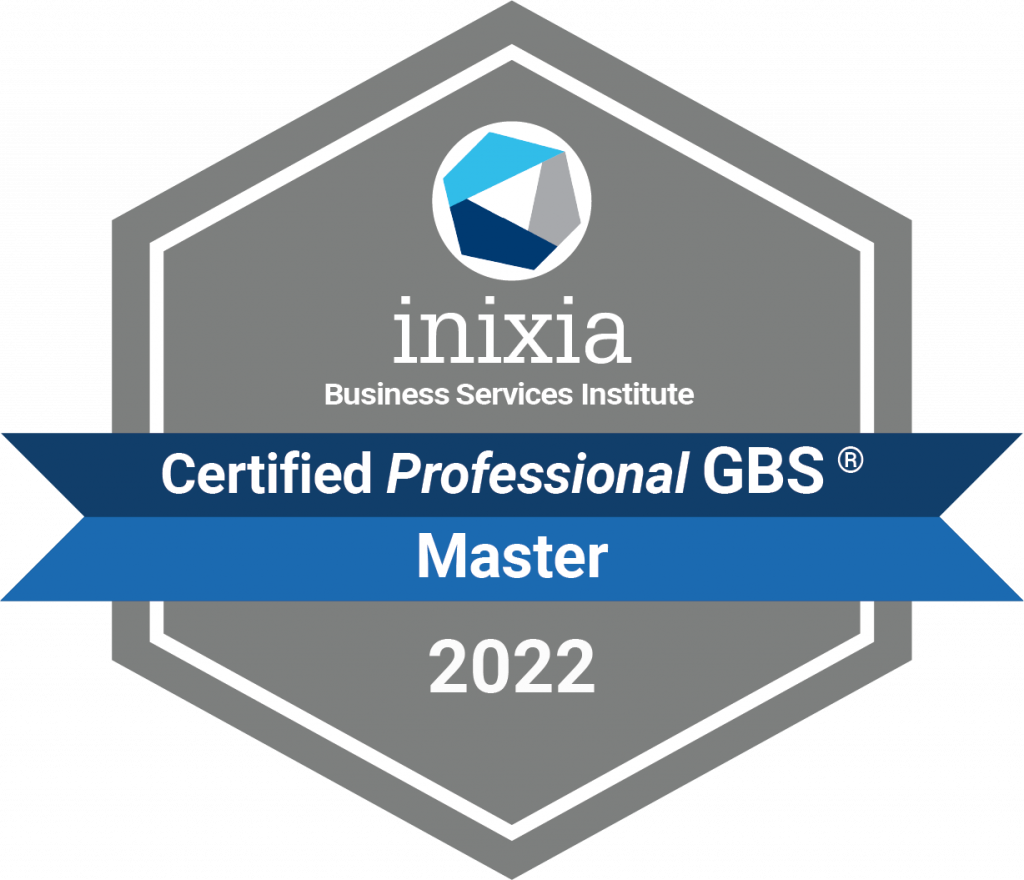 Opportunity to co-author new industry materials
Serve as expert trainers
Additional professional development
Ongoing collaboration
Networking
Five Additional, Individual Certifications
Each Professional GBS® course comes with the opportunity to earn a unique certification showcasing your expertise. To qualify, you must complete the course and an assessment.
Foundations
Service Management
Operations Management
Transformation Management
Leadership